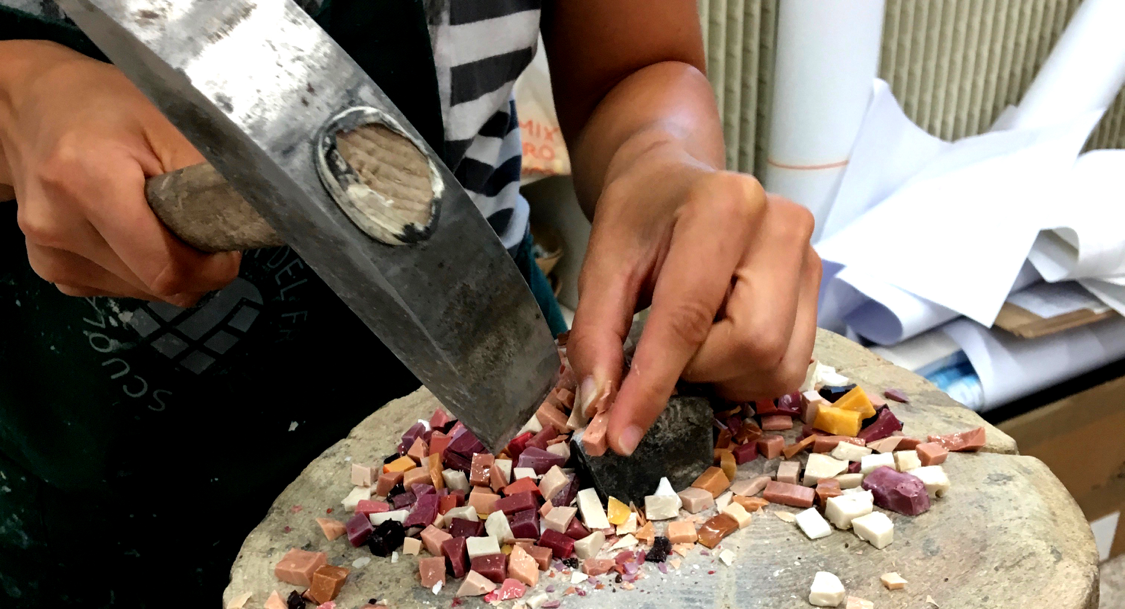 Artisans in northern Italy are now piecing together the mosaic that will cover the surface of the Trinity Dome. The full-scale sketches of the dome were passed along to the mosaic artists, who began the process of color-coding mosaic tiles by hand, delineating more than one thousand variations of colorful Venetian glass.
The artisans at Travisanutto Giovanni company have begun the fabrication of the mosaic using the reverse or indirect method. Invented in Italy in the late 19th century, this method allows for the creation of mosaics of a much greater scale, in a more reasonable timeframe and at a more reasonable cost.
The Venetian glass is handmade by only two companies in the world, both of which are located in Venice. Each piece is initially shaped one at a time using a hammer and chisel. Since every tile is created for a specific place on the mosaic, if the tile breaks incorrectly while being chiseled, the artisan must take another piece of glass and begin the process again.
The indirect method is implemented as the mosaic is created in reverse, with the glass tiles temporarily affixed right side down on large sections of paper. The adhesion is achieved using a paste made from flour and water. This process ensures that once all of the sections of mosaic are delivered to the site for installation, artisans will cement the sections to the surface of the dome according to precise mapping. The paste is then scrubbed off to expose the mosaic tiles.
This is an incredible advancement from the prior method, known as the direct method, in which the glass tiles were directly cemented to a surface right side up and piece by piece, rather than section by section, taking at least three times as long to create the finished product.
Once the Venetian glass is in place and all 30,000 sections of the dome have been finished, the mosaics will be carefully packaged in anticipation of their journey overseas to the Basilica of the National Shrine of the Immaculate Conception. The mosaic "puzzle", weighing 24 tons, will be shipped by air and boat in boxed crates. God willing, December 8, 2017 will see America's Catholic Church completed with the unveiling and dedication of the Trinity Dome.
14 Million Pieces Placed by Hand – Image Gallery
View on YouTube