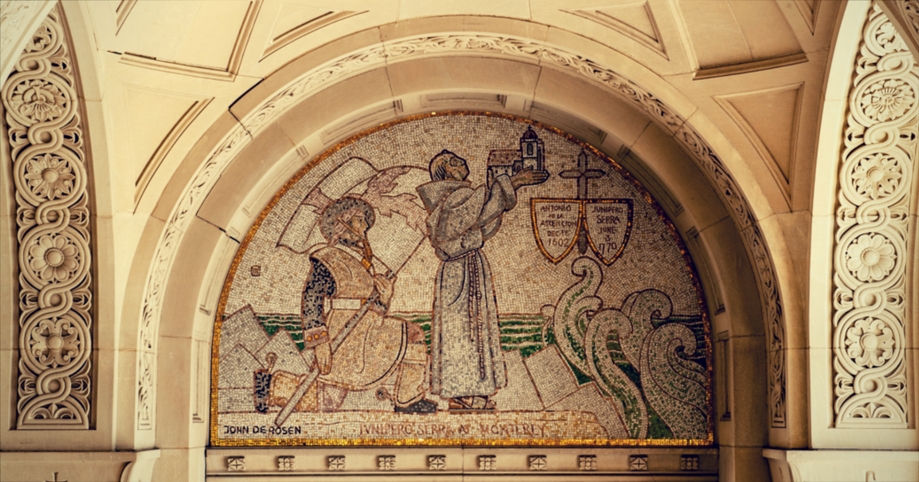 The Trinity Dome mosaic encompasses a procession of saints of multiple nationalities and cultures. However, each and every saint depicted shares a deep connection with the Basilica of the National Shrine of the Immaculate Conception and with the pioneering of American Catholicism. In our last post, we highlighted two of North America's pragmatic indigenous saints: St. Kateri Tekakwitha and St. Juan Diego. This week, we are excited to reveal two of North America's most iconic missionaries, to be memorialized on the Trinity Dome: St. Frances Xavier Cabrini and St. Junípero Serra.
Widely acknowledged for their missionary efforts, both saints worked tirelessly throughout their life to bring the Catholic faith to young America. Despite living in different eras and on opposing coasts, these two figureheads of apostolic activism are largely responsible for grounding America in strong Christian ideology.
Saint Frances Xavier Cabrini: Spreading Catholicism in the East Coast
Born on July 15, 1850, in a small village outside of Milan, Italy, Frances Cabrini was no stranger to the concept of immigration to America. Filled with missionary zeal, she applied to join the Daughters of the Sacred Heart when she was of age. However, due to her frail health, her request was denied.
Undeterred, Frances founded the Institute of the Missionary Sisters of the Sacred Heart of Jesus in 1880, which originally consisted of seven women. She then traveled to Rome to visit Pope Leo XIII, requesting to be sent to China for missionary work. However, the Pope had other plans. He asked that she consider going West to help the thousands of immigrants who had migrated to the United States.
Upon arriving in New York City in 1889, Mother Frances Cabrini and her sisters immediately started their work. Realizing the vast need for catechetical education among the Italian immigrants, the women organized classes, instituting schools the moment they had funds to do so. Frances also made a point to help orphan children, establishing multiple orphanages for the hundreds of orphan children living on the streets of New York at the time.
Her success did not go unnoticed, and requests for her schools and orphanages came from all corners of the globe. For the remainder of her life she traveled around Europe and the American continent, establishing 67 schools, hospitals and orphanages in total.
After her death on December 22, 1917, she was greatly mourned by all who knew her. In 1946, Pope Pius XII canonized her, and she was given the official title of "Patroness of Immigrants" four years later. To this day, she is greatly responsible for the spread of Catholicism on the East Coast.
Saint Junípero Serra: Bringing Catholicism to the West Coast
Father Junípero Serra was an imperative part of the expansion of Catholicism out West, traveling to America as a missionary in 1749.
Initially focused on converting natives in Mexico, he walked 250 miles to Mexico City with one of his former students. However, during the course of his journey, he permanently damaged his leg, suffering lingering pain for the rest of his life. Upon his arrival, he joined the College of San Fernando, a missionary school in Mexico City. Throughout the late 1750s through 1760s, he would play a vast variety of roles at the college, while preaching and teaching to the natives in his free time.
However, in 1769, upon hearing there was a need for missionaries further West, he immediately volunteered for the Sierra Gorda missions, which were in Pame Indian territory. Thus, Serra began the work for which he would later be best known. He spent his days traveling throughout present-day California, preaching to the native people and attending to their spiritual needs. However, he was not only invested in improving the native American culture spiritually. He also sought to improve the day-to-day life of the people, teaching them the European concepts of economy and government.
Junípero Serra officially established his first U.S. mission in 1769. Over the course of his lifetime he built eight more California missions before his death in 1784. He was beatified in 1988 by Pope John Paul II, and was canonized in 2015 by Pope Francis at the Basilica of the National Shrine of the Immaculate Conception, the first ever canonization to take place on U.S. soil.
Laying the Foundation
The National Shrine represents the remarkable faith, devotion, struggles and triumphs of our nation's immigrant heritage and tells the story of the Catholic Church's emergence and evolution in this country through the labor of many hard-working men and women. Through their sacrifice the foundation of Catholicism was laid, and its expansion was ensured.
Thus, the Trinity Dome, the "Crowning Jewel" of America's Catholic Church, recognizes St. Frances Xavier Cabrini and St. Junípero Serra, both of whom are iconic American missionaries. A century in the making, Mary's Shrine embodies the faith and heritage of generations of American Catholics who came before, and it still offers the faithful of today and tomorrow the opportunity to be a part of this living legacy.
Their Stories: The Trinity Dome's North American Missionaries