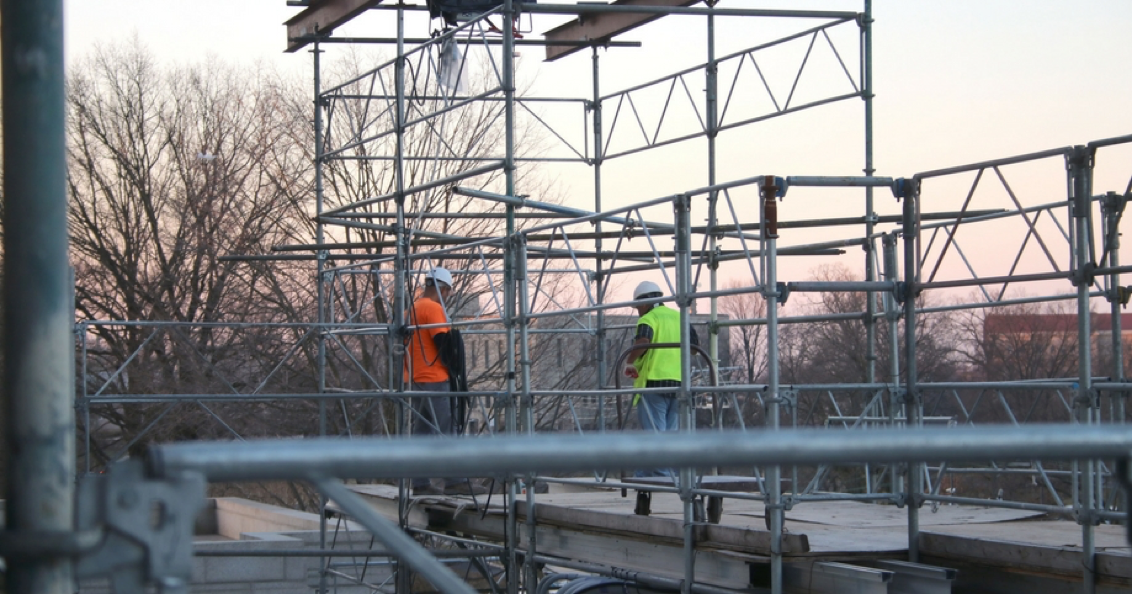 While the artisans at Travisanutto Giovanni company work to finish all of the pieces of the Trinity Dome mosaic, the scaffolding has been fully constructed in the Basilica's Great Upper Church in preparation for the arrival of the first delivery of mosaics. As Monsignor Rossi, the Rector of the Basilica, said in an interview this month:
"Now that the scaffolding is in place and the mosaics are being fabricated, we need to move full steam ahead to ensure that we complete this great work!"
Shipping the Mosaics from Italy
In preparation for their journey overseas from Italy to Washington, D.C., sections of the Trinity Dome mosaic were laid out on the floor of a large warehouse in Italy. The sections were arranged to form the full figures of each of the saints and were then carefully ordered and packaged into boxes.
Neatly divided into massive wooden crates, the first load of mosaics was shipped by both air and boat from Venice, Italy, to the Basilica of the National Shrine of the Immaculate Conception in Washington, D.C.
Preparing the Dome for the Mosaic Installation
The team at the National Shrine prepped the inside of the dome for the mosaic installation. All original plaster on the walls of the dome had to be stripped off, including the plaster at the top of the oculus – 159 feet off the floor. The original gypsum plaster had sealed the dome since the 1950s when the Upper Church was built. However, gypsum plaster could not hold the weight of the mosaic and was replaced by Portland cement plaster. Adding new cement meant that gridlines could be drawn, helping to position the mosaic within the dome.
The Arrival at the National Shrine
Upon their arrival to the United States, the wooden crates were driven to the Shrine using giant tractor trailers. The shipment was met with a forklift, and the time-consuming process of unloading the heavy boxes commenced. The boxes were moved up the scaffolding by the construction crew, employing the use of a pulley and rope in to lift the weighty crates. Once safely placed on the scaffolding, another group of contractors worked to cart into the Upper Church.
Once inside, the crates took the 60-foot ride up one of the construction elevator of the massive scaffolding framing the interior of the nave. From there, depending on their place on the dome, the contents of the crates were distributed to various areas on the thirteen floors of scaffolding above.
Over the course of the next several months, artisans will painstakingly and methodically install the mosaic pieces that have just arrived and the ones yet to come, cementing each section of the mosaic to the very precisely mapped dome. This undertaking will be one of the largest mosaic installations of its kind in the world – a magnificent feat of art, architecture and engineering, and the fruit of much labor.
An Overseas Journey – Image Gallery